Do you want to learn how to check eBay gift card balance? Then, continue reading.
I so much love to shop on the eBay website. Maybe because I do receive lots of eBay gift cards as gifts from friends and family. However, my bad habit is not checking my gift card balance before making a purchase.

Well, me and impulsive buying are 5 and 6. I was randomly checking beautiful items on eBay yesterday and came across a gorgeous bag. The excitement in me was so much to purchase it right away. Unfortunately, the transaction was declined when I tried to make a purchase with one of my eBay gift cards.
The purchase was tried 3 more times but still got the same result. I was frustrated and had to call customer service to know whatever was happening.

The customer service representative on duty informed me I had a zero balance. I couldn't believe it actually because I had no idea the balance was that low. I checked my records and realized I have made several small purchases over the past few months and haven't kept track of the balance.

To avoid such heartbreak next time, I always checked my balance, at least before raising my hopes high on a purchase.

It is essential to check your eBay gift card balance to avoid unwanted surprises and ensure you can complete your transaction. Let's talk about the awesomeness of eBay gift cards and how to check the balance.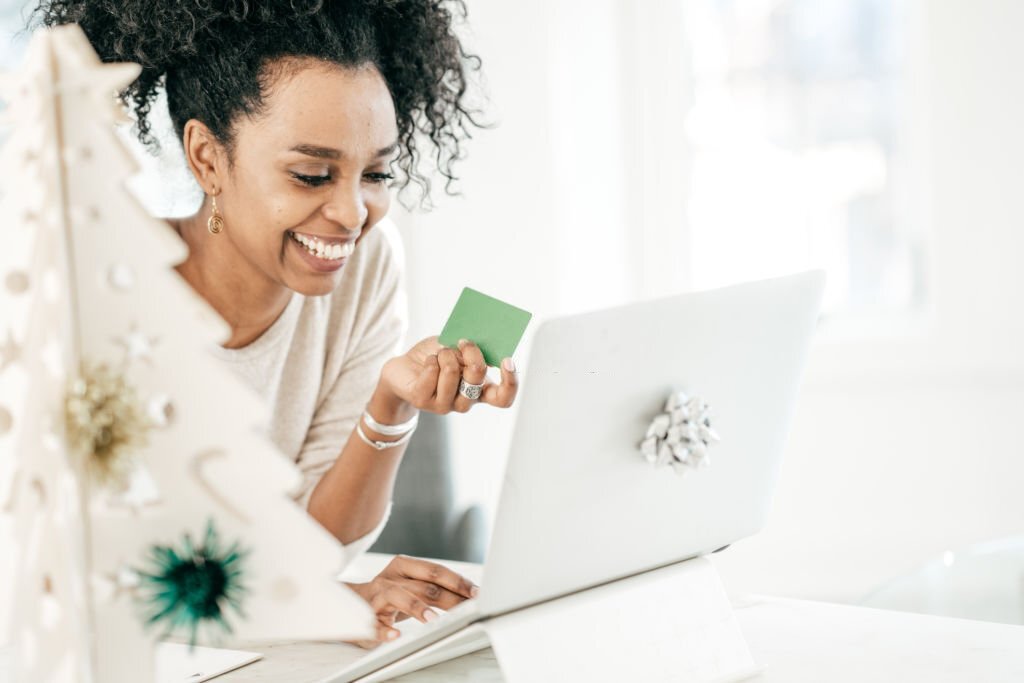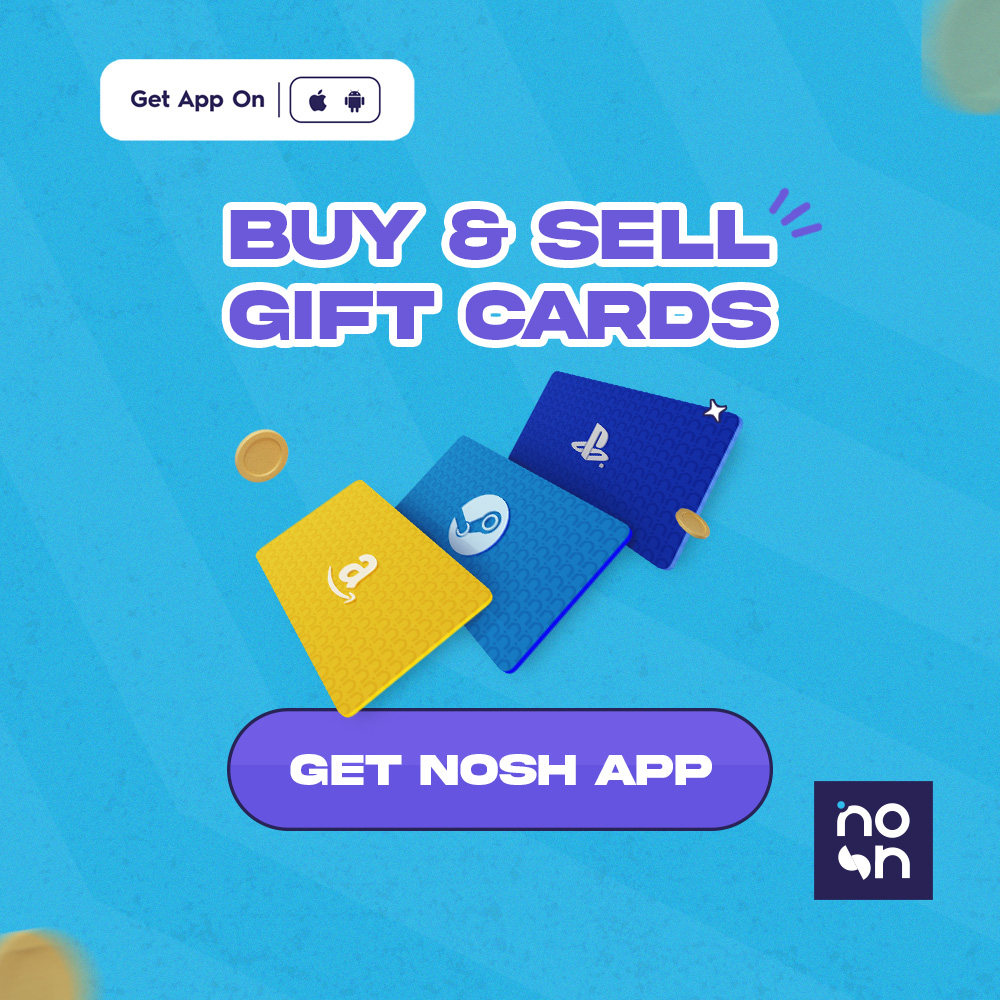 The Popularity Of eBay Gift Cards
The versatility of eBay gift cards majorly contributes to its popularity. It is one of the gift cards mostly used as gifts in the US and globally. eBay gift cards have no expiration date, which gives recipients the freedom to redeem them anytime.

You can easily buy them in-store or online from the comfort of your home. Interestingly, you can exchange eBay gift cards for cash. It is one of Nigeria's top 10 gift cards with the highest rate. It's conveniently one of the easy ways to earn passive income.

eBay gift cards' popularity can be attributed to their ease of use, ease of purchase, convenience, versatility, and flexibility as a gift choice.
Different Ways To Check eBay Gift Card Balance.
It is pretty straightforward to check an eBay gift card balance. There are basically two ways: via the eBay website and customer support. Let's check out the steps involved.
Checking The Balance Through The eBay Website
Visit the eBay gift card balance checker page.


Sign up for a new account if that's your first time. As a returning user, log in with your details.


Input the 13-digit code on your eBay gift card.


Click on the blue "Check balance" button.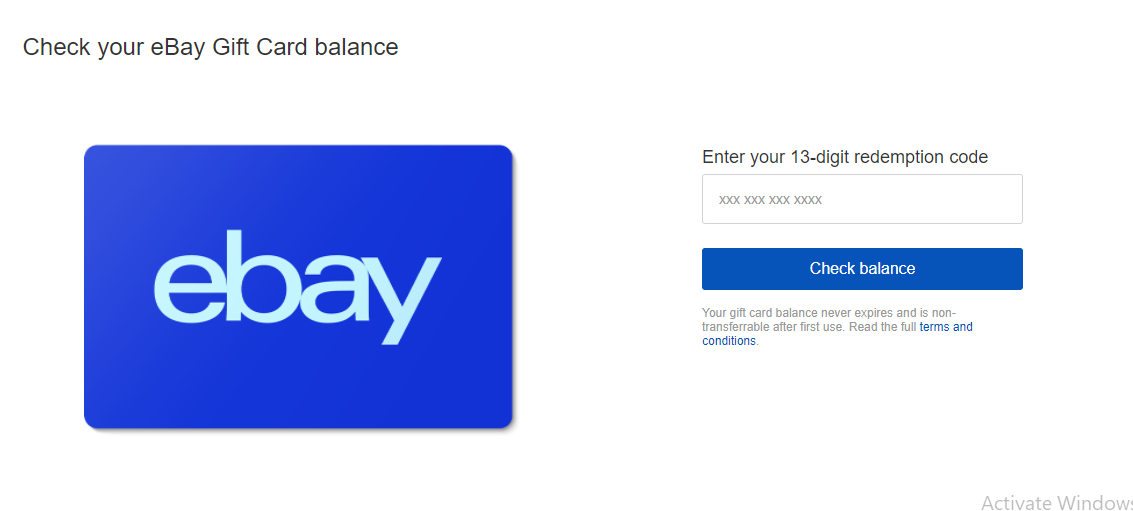 Checking The Balance Through the eBay Customer Service
Another effective way to check your eBay gift card balance is to contact the customer support team. Place a call to 1-866-961-9253 to speak to a customer representative. The person on duty will help you check the eBay gift card balance.
How To Know If Your eBay Gift Card Is Activated
eBay gift cards are usually activated once purchased. It is important you make sure your gift card is activated. Without that, you won't be able to redeem items at the store or on their website.

First, you can confirm from the cashier on duty if you are buying the gift card in person. You can also wait for a few hours, about 2 to 3 hours. The next step is to check the eBay gift card balance. Once you can see your balance, you can rest assured.
Limitations On eBay Gift Card
As awesome as eBay gift cards are, there are certain things you won't be able to do with them. Let's check them out:
You can't use eBay gift cards can't be used to buy other gift cards.


You can only redeem a maximum of $1000 daily and $1500 monthly with an eBay gift card.


Once an eBay gift card is used, it will be linked to your account and can't be used on another.


You can combine about 4 eBay gift cards to make a single payment.
How To Sell eBay Gift Cards in Nigeria
To sell an eBay gift card in Nigeria, you need to find a reputable trading platform. There are various gift card trading platforms in Nigeria, but you need to look out for the best.

Nosh is the best gift card trading platform in Nigeria, popularly known for its best rates and customer satisfaction. Let's examine the various steps involved in selling eBay gift cards on Nosh.
Log in and gain access to a dashboard.


On the left panel, click on Giftcards.


Select Sell Giftcards.


Input your eBay gift card category and the subcategory.


Type in the amount.


Tap on Begin Trade button.
Conclusion
Checking the balance on an eBay gift card doesn't call for a headache. It is as simple as possible. Now that you've learned about the two different ways you can explore to check, what next?

Sell your eBay gift card for cash on the Nosh website or mobile app. You can download the mobile app on the Google Play store or Apple App store.

Confirm your balance and start making those trades!