Nike gift cards can be used as a form of payment for products or services at Nike stores or on their website. These cards are pre-loaded with a specific amount of money and can be used instead of cash or a credit card to make purchases. Holders can choose to redeem it for items or sell the Nike gift card for cash.

They are a popular gift card choice for athletes, fitness enthusiasts, and anyone who loves Nike products. Any Nike gift card holder can buy various athletic materials including clothing, sports wears, accessories, etc. Another great way to utilize a Nike gift card is to exchange it for cash. In Nigeria, Nosh remains the best gift card trading app to sell your gift cards.
In this article, I will guide you on how to quickly sell Nike gift cards in Nigeria.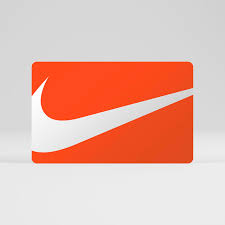 Features of Nike Gift Card
Flexibility: Nike gift cards can be used to buy a wide range of Nike products, including footwear, apparel, and accessories.
Convenience: Nike gift cards can be used online or in stores, making it easy for the recipient to shop for the products they want.
Customization: Some Nike gift cards allow you to customize the design and add a personal message, making them a great option for gifts.
No expiration: Nike gift cards do not expire, so the recipient can use them at any time.
Balance check: You can check the balance of your Nike gift card online or by contacting customer service.
Refunds and exchanges: Nike gift cards are non-refundable, but they can be used to make exchanges for other products.
Security: Nike gift cards are secure and cannot be replaced if lost or stolen.
Physical and digital options: Nike gift cards are available in both physical and digital formats, so you can choose the option that best suits your needs.

It's important to note that Nike gift cards may have certain terms and conditions, such as fees for replacement cards or limitations on use, so be sure to read the fine print before purchasing or using one.
How to Redeem Nike Gift Card
To redeem a Nike gift card, follow these steps:
Go to the Nike website (www.nike.com) and add items to your shopping cart.
When you are ready to check out, click on the "Checkout" button.
Enter your shipping and billing information, and then click "Continue to Payment."
Under the "Payment" section, select "Gift Card" as your payment method.
Enter the gift card number and the security code in the designated fields.
Click "Apply" to apply the gift card balance to your order.
If the gift card balance does not cover the total cost of your order, you will need to select an additional payment method to cover the remainder.
Review your order and click "Place Order" to complete the transaction.
How to Check Nike Gift Card Balance
Would you like to check the remaining balance on your Nike card? Kindly follow the instructions listed here: 
Load this page on any browser of your choice. A list of countries will show up, just close it.
Next, type in the security code and gift card number.
The gift card number and the PIN are on the back of the card.
Ensure to type in the correct details in the required field.
Hit the "Check Balance" option.
Your Nike gift card balance will be revealed.
How Much is a $100 Nike Gift Card Rate?
The worth of a gift card can vary over time. For example, the price of a $100 Nike gift card may go up or down within an hour. Currently, the Nosh app lists the rate of a Nike gift card at NGN 430 per dollar.

This means exchanging your $100 Nike gift card now can give you 43, 000 naira. If you are looking for a reliable platform to sell your gift cards, Nosh is the ideal platform for that.

We have an automated calculator that constantly updates the rates of gift cards. This tool can be accessed through the website or mobile app and allows you to check the current price at any time.

To get the most up-to-date information on gift card rates, you can leverage the gift card rate calculator on Nosh.
Check out What Are The Nike Gift Card Errors And How Can They Be Fixed. 
How to Sell Nike Gift Cards on the Nosh App
To sell a Nike gift card on the Nosh App, follow these steps:
Download the Nosh App from the App Store or Google Play Store.
Create an account by providing your name, email address, and phone number.
Choose the "Gift Cards" category and then select "Nike" as the brand.
Enter the value of the gift card and any additional details, such as the expiration date or any restrictions.
Take a picture of the front and back of the gift card.
Review and confirm the details of your listing.
Click on the "Sell" tab at the bottom of the screen.
Once the transaction is complete, you will receive the payment which will reflect on your wallet balance.
Can I Trust Nosh?
Nosh is a reliable and trustworthy platform offering gift card trading services to people based in Nigeria and Ghana.

Customers remain on the platform because of the high rates, seamless trading experience, and swift payment.

In case of any inquiry, there is a 24/7 standby customer support team you can with via the in-chat support on our website.
Conclusion
Exchanging a Nike gift card for cash in Nigeria can be a profitable venture if you follow the right steps. First, you must ensure that you have a legitimate physical or virtual Nike gift card that has not been used or redeemed.

Next, you should research the market and find out the current value of the gift card. The gift card rate calculator on the Nosh website and app can come in handy for that.

Download the mobile app or sign up on the website to get started. Exchange every other gift cards you have including Apple gift card, iTunes gift card, Amazon gift card, and others.