With over 1 million packages sold each day, Amazon is unquestionably the biggest online retailer in the world. The Amazon gift card is also the most widely used among gift card providers. The Amazon website is quite thorough and user-friendly, that is, it has a good user experience and user interface. They now offer shipping to African nations, including Nigeria. Amazon is a retailer that provides e-commerce, digital streaming, and cloud computing among other services.
What Is An Amazon Gift Card?
Amazon gift cards are pre-loaded plastic cards that offer immediate product discounts. These cards can also be redeemed for an Amazon Pay balance, which can be used to shop at the Amazon store without restriction. You can also use an Amazon gift card to pay for phone bills and other expenses.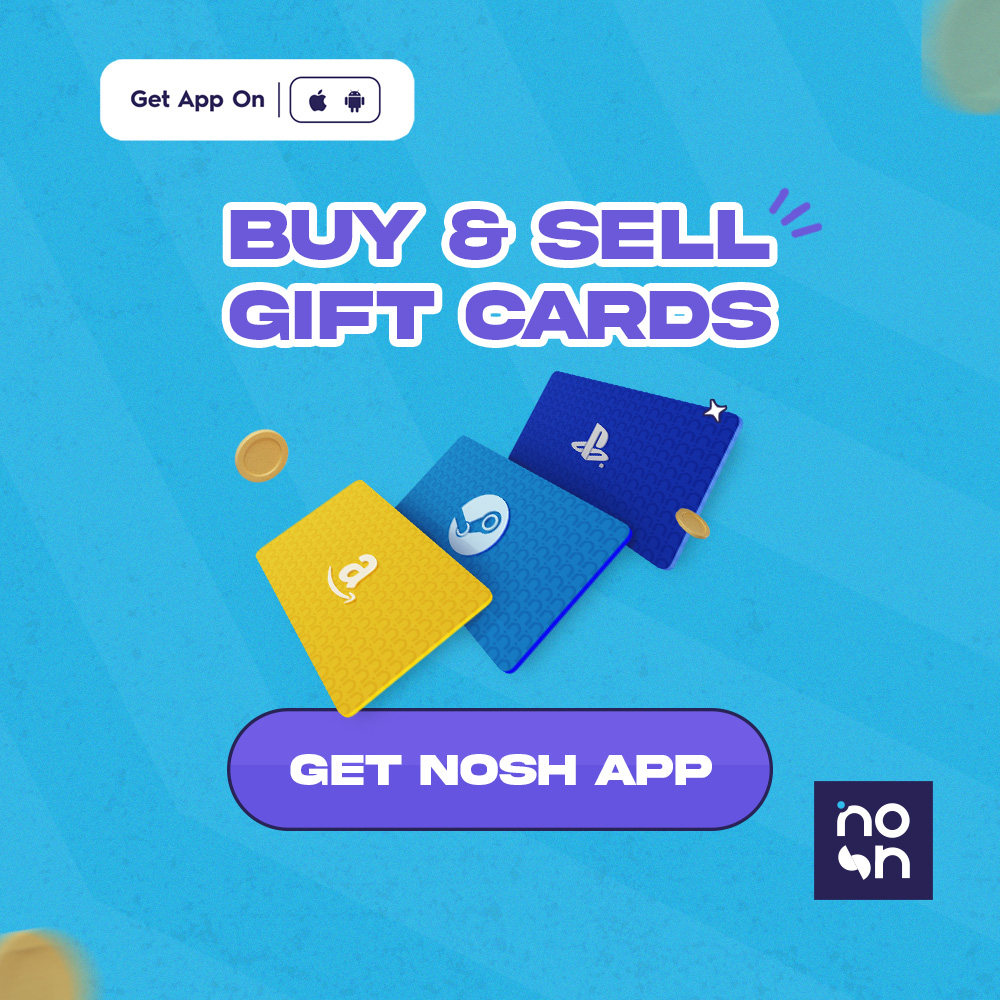 Amazon Gift Cards are available in denominations of $50, $100, $500, and $1,000. They're good for a year (365 days) from the date of purchase, and you can acquire them via online mail or physical delivery.
The majority of people prefer mail as a delivery method since it is quick. Within 5 minutes after your transaction, Amazon will SMS you the eGift code.
You can give and share this code or number with family and friends who would benefit from it. You can also order them in physical form, which you can use or give away.
Furthermore, when you use this card, you will be able to choose from over variety of products. It is valid for the entire calendar year, beginning on the day of issue.
With an Amazon gift card, there is essentially no limit to what you can buy or not buy. The Amazon gift card can be used to purchase a wide range of things on Amazon.
Forms of Amazon Gift Card?

Physical gift card
This physical Amazon gift card is available for sale in various physical retail stores. You can either purchase it directly from a shop assistant or have it mailed to your home address after purchase.
E-gift card
This is also known as an E-code or digital gift card. Upon purchase, you will receive these gift card credentials by email or sms, and you can use them online.
How to Sell Amazon Gift Card on Nosh for Naira?
NOSH is an online marketplace where you can trade your gift cards for cash. You can quickly swap an Amazon gift card for naira using NOSH, and you are not restricted to that; you can exchange any gift card for naira.
The actual trading process is rather simple to comprehend:
Simply download the app, create an account or log in.
Choose 'Amazon' under your gift card category
Enter the value of the card you want to sell.
Submit your request
You will receive a response from the platform in less than 5 minutes.

Once 

the 

gift 

card 

has 

been 

confirmed, 

the naira

 

equivalent 

will 

be 

paid 

to 

you.
You can contact NOSH support via email: [email protected], or via live chat (on the mobile app or on the site) if you prefer a more interactive session.

How Much is a $100 Amazon Card in Naira?
Gift card rates are constantly changing. They fluctuate based on a number of factors, including the partners' availability and the status of the market. On the Nosh app, a $100 Amazon gift card is available for around N45,000 at the time of writing this article.
The cost is less for printed vouchers and ecodes. Amazon gift card frequently has a significant rate and is one of the gift cards with the best rates. The Nosh app allows you to check the current gift card exchange rate using the rate calculator. You can always examine the best gift cards to buy and sell simultaneously.
How to Check the Gift Card Balance
1. Go to your Amazon account and sign in.
2. Select Account under the dropdown.
3. View the balance of gift cards by selecting Gift Cards.
Why You Need an Amazon Gift Card?
They can be reloaded: Yes, your Amazon gift card may be reloaded. Only a few organisations provide this service, and it's fantastic since it functions similarly to a debit or credit card, allowing you to better arrange your spending. The best thing is that, because Amazon has affiliates, your gift card may be used at those businesses as well.
Amazon offers incentives: Everyone enjoys getting rewarded, whether or not they merit it. You can get money back when you use an Amazon gift card and reload it. This may be the most important reason for you to obtain one as soon as possible.
They Don't Expire: No one enjoys having to worry about amazon gift cards expiring, especially if they haven't thought of anything specific to buy or are saving the gift card for a big purchase.
How to Reload Your Gift Card Automatically
Your gift card can be auto-reloaded in two ways. This option eliminates the need to reload your card every time you need it.
1. Auto-Reloading Can Be Scheduled: This is accomplished by selecting the reload amount, or how much you want to reload, as well as the frequency (daily, weekly, or bi-weekly) and the start date.
2. Reloading When Your Balance Is Low: With this option, you may have your gift card balance automatically reloaded when it reaches a specified amount. For example, if your balance falls below $30, you can opt to reload your gift card with $100.
How to Reload Using a Prepaid Card
This is typically utilised as a one-time option; all you have to do is link your prepaid card to your Amazon wallet if you haven't already done so, by adding a new card and selecting any amount available on the card and sending it to your Amazon wallet.
Frequently Asked Questions
Can I exchange my Amazon gift card for another gift card?
No. On the Nosh App, you cannot exchange your Amazon gift card for another. However, the availability of this feature can be available on another platform. Nevertheless, you can be rest assured to get the best rate on your Google Amazon gift card on the Nosh App.
Is it safe to sell my Amazon gift card online?
Yes. To ensure a secure transaction when selling your Amazon gift card, make sure to make use reputable and trustworthy platforms. The Nosh App is highly recommended for the safe online gift card trades. We have secure payment options, protective measures, as well as positive feedback from users. Additionally, be cautious of potential scammers by never sharing your gift card details prior to confirming the legitimacy of a platform.
What is the best platform to sell my Amazon gift card?
When considering where to sell your Amazon gift card it is important to consider different factors such as convenience, rates, customer support availability, before choosing the platform for your needs. The Nosh App offers these and more, that is why recommend the Nosh App.
Can I sell an Amazon gift card that was purchased in a different country?
Yes. You are can sell an Amazon gift card purchased in a different country. However, it should be noted that the demand for gift cards from specific countries may fluctuate.
Conclusion
An Amazon gift card is a special kind of card that can be presented as a gift or used to pay for Amazon and its other services. However, you may simply sell on the Nosh App in exchange for cash if you obtain one that you don't need. Give it as   Don't let your gift cards get misplaced or go forgotten without being used; they can save you money and hassle.
---
Here are some related articles:
Sell Steam Gift Card In Nigeria
Sell American Express Gift Card In Nigeria
Sell Best Buy Gift Card for Cash in Nigeria
Sell eBay Gift Card in Nigeria Instantly
Sell Google Play Gift Card in Nigeria
Top 10 Best Gift Cards With Highest Rates To Sell in Nigeria