A Nordstrom gift card is almost of no use in Nigeria, because of the absence of physical Nordstrom stores to redeem them. But you've got something valuable on your hand if you know the best place to sell it. And I will be explaining to you how to sell your Nordstrom gift card instantly for cool cash using NOSH, instead of dumping the card in your wallet, cabinet or wardrobe.
Gift cards are a unique sales channel that generates money before the actual transaction when the gift is redeemed. A Nordstrom gift card is a prepaid card that can be loaded with a certain amount of money, which can then be used to purchase items at Nordstrom stores or Nordstrom online. The card can be used to purchase clothing, shoes, accessories, beauty products, and home goods. They can also be used in conjunction with other forms of payment. They can be purchased in different denominations and can be used multiple times until the balance is exhausted.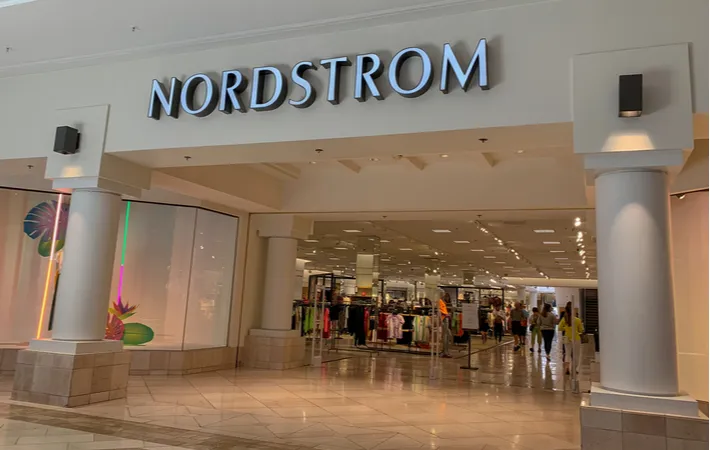 And Nordstrom is an American luxury department store chain that sells clothing, shoes, jewellery, and home goods. The company was founded in 1901 and is headquartered in Seattle, Washington. Nordstrom operates stores in the United States, Canada, and Puerto Rico, as well as an e-commerce website. They are known for their wide selection of high-end merchandise and excellent customer service. In addition to its full-line department stores, Nordstrom also operates Nordstrom Rack, a chain of off-price stores that sells discounted designer clothing and accessories, and also operates Nordstrom Trunk Club, a clothing styling service that sends curated clothing boxes to customers on a subscription basis.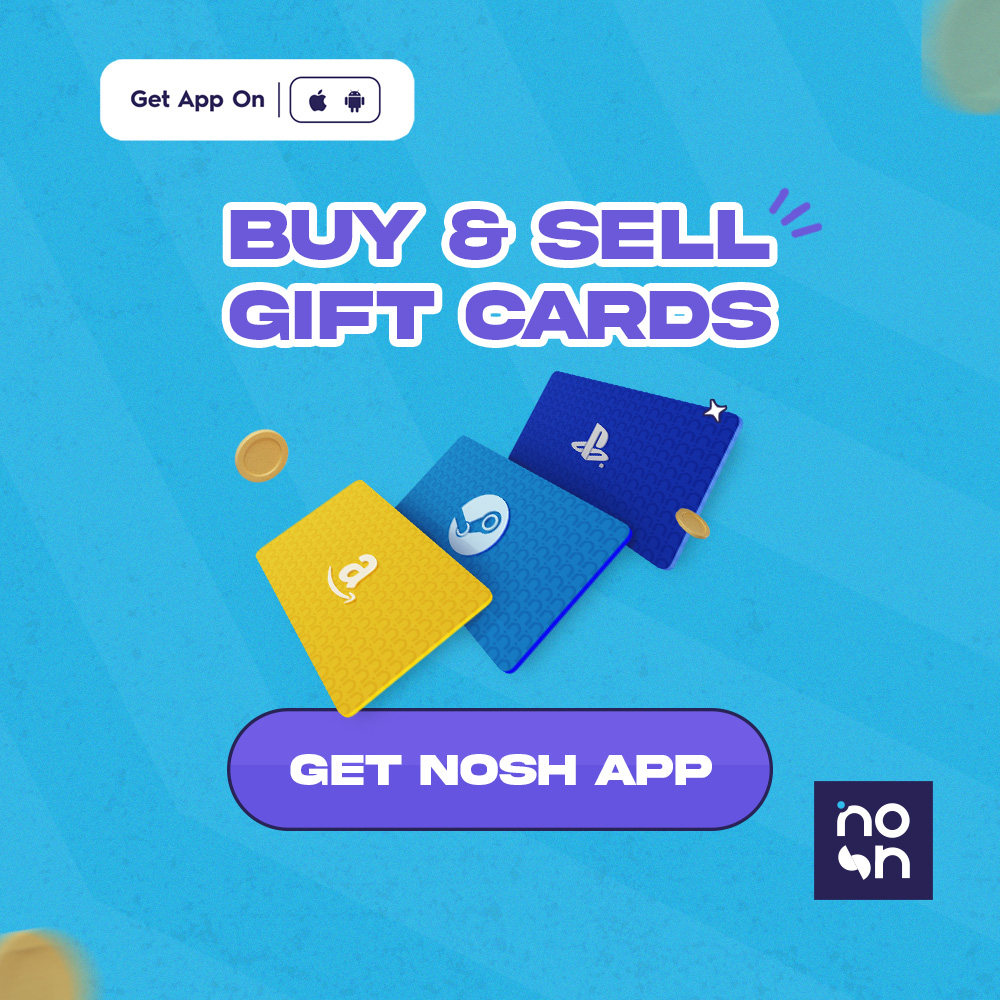 How to Sell Nordstrom Gift Cards Instantly in Nigeria
The easiest means of trading your Nordstrom gift card for instant cash is via the Nosh App. Follow the simple and straightforward steps below:
1. Download the Nosh app, create an account or log in if you already have an account.
2. On the home page, begin by clicking on Buy | Sell Giftcards
3. Afterwards, choose Sell Gift Cards
4. Select the kind of gift card you own, in this case, 'Nordstrom'. You have the option of swiping through the gift card photos or choosing from the dropdown menu.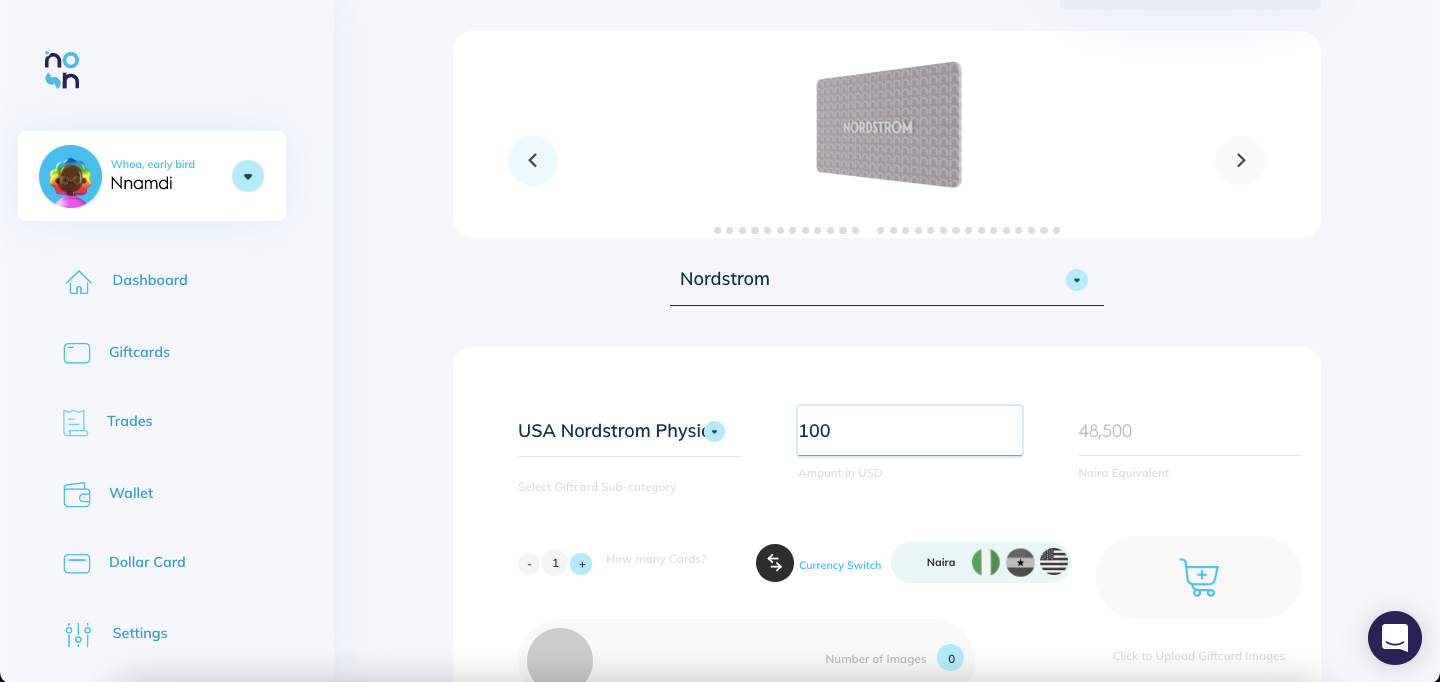 5. Choose the Sub-Category that your gift card falls under.
6. Input the value of your gift card (for example, 100 which means $100)
7. Now, choose your currency. You can choose the currency you want your cash to be received. Available currencies are Naira, Cedis and Dollar. Just toggle the flag to the currency of your choice to which you want your gift card to be exchanged to. In this case, you will choose Naira (the Nigeria flag).
8. Afterwards, you will see the rate and the amount you will receive in Naira.
9. The next step is to add the picture(s) of your gift card and/or any other relevant picture like the receipt. You can add pictures by swiping to the right or by clicking on the cart that says, "CLICK HERE TO UPLOAD CARD".
10. You can add comments to your trade. For instance, if you have further information or clarification as regards your card or the trade in general, that's a safe space to air it. Do note that this is optional. Simply skip this step if you have no comments.
11. When you're done with the above steps make sure you SWIPE TO SELL.
You can as well watch this video for a detailed explanation:
Guide on How to Check the Balance of a Nordstrom Gift Card
There are a few ways to check the balance on a Nordstrom gift card:
Checking the Balance Online: You can check the balance of your Nordstrom gift card online by visiting the Nordstrom website and entering the card number and the access code.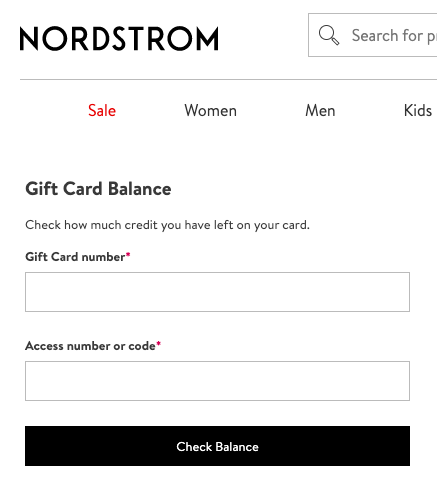 Checking the Balance In-store: You can check the balance of your Nordstrom gift card by visiting a Nordstrom store and asking a sales associate to check the balance for you.
Checking the Balance By phone: You can check the balance of your Nordstrom gift card by calling Nordstrom's customer service at

1-888-282-6060

. They will need the card number and the security code to check the balance for you

Checking the Balance using the receipt: If you have the receipt from when you received the gift card, the remaining balance should be printed on it.
You should also see Nordstrom Gift Card Error Messages And How To Solve Them.
How Much Will You Get When You Sell a $100 Nordstrom Gift Card
Presently speaking, the rate of a $100 USA Nordstrom gift card in Nigeria is N48,500 while that of an E-code is N37,000 on the Nosh app.
You can determine the amount you'll get when you trade your gift card by using the rate calculator, so as to stay up to date with the current rate because rates are not constant. But be rest assured that you will always get the best rates on the Nosh app. That's for sure!
Wrapping Up
In this article, we discussed how to sell Nordstrom gift cards and the best platform to make the trade, which is the Nosh app. We also explored the step-by-step guide on how to check your Nordstrom gift card balance, which are: using online means, by phone, in-store, and by checking the receipt. I encourage you to check the rate calculator to be aware of the amount you will receive after the trade, and you can be sure to get the best rate for your gift cards on the Nosh app. Now, go ahead to sell your gift card and do enjoy #TheTOPNOSHExperience.